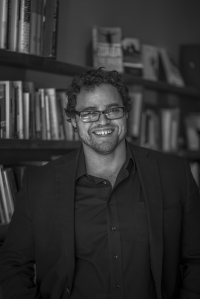 Sky Thomas
Sky Thomas creates SEO-laced content that's easy to understand, entertains, and engages. Principles from his MBA and years in banking keep his business writing focused and clear for B2B and B2C. Whatever the goal of your writing, Sky can find the words.
Sky's travel misadventures act as a guide to an authentic voice in his travel writing. You can't beat that authentic "stranded internationally" experience. Or a few years of planning and booking customer vacations. No matter the angle, Sky can capture the spirit of adventure for your article or blog.
Sky's comedy chops started with improv and escalated to full-blown stand-up comedy. As if a theater degree wasn't enough, Sky writes and performs with the SpringVegas Sketch Comedy Show. He's no stranger to collaborative feedback and adjusting the tone to meet your needs.
If your speech needs punched up, your script revitalized, or your story structure, Sky can help.
You can find Sky nose deep in a pile of books at a local bookstore or working on his forthcoming novel "Sword and Storm".
Sky also writes parody news for The Worst Timeline, found here: https://www.facebook.com/WorstTimeLime
Expertise Travel, Financial, Business Administration
Skills B2B, Financial Writing, SEO, Business Writing, Creative Writing, Comedy Writing, Script Writing, Speech Writing, Joke Writing, Ghostwriting, Article Writing, Content Writing
Location Missouri, USA